Victorian Day 2009
July 30, 2009 3:42 pm
By cannon303
---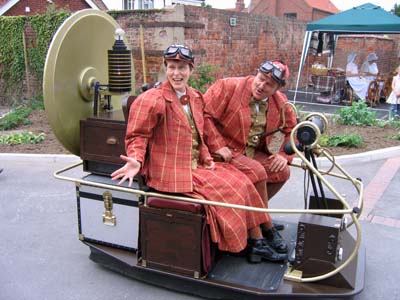 June 28th 2009 saw the Barton upon Humber Civic Society hold their eagerly awaited Victorian Day as part of its 40th anniversary celebrations. Queen Street, including the newly opened Wilderspin National School, took a trip back in time to the Victorian Era for the day. Queen Street was closed between Catherine Street and the Salvation Army Citadel to enable the safe showing of street theatre and rides for the children (and adults). There were many charity and local themed stalls in the grounds of Wilderspin National School to interest the crowds. There were bell ringers, musical organs, vintage cycles, recitals in local dialect and refreshments there too. Inside the school Victorian-style lessons were held throughout the day. There was also chance to have tea and cake or a bun in the lovely gardens of 8 Queen Street. Across the road from here were children's games to keep them amused (if there wasn't enough already). A very nice touch were the carriage rides given by a pair of huge horses, with authentic poo to add a certain realism to the day. There was also chance to see, or even experience, the toil taken to perform a wash day in the Victorian era.
All in all it was a fantastic free family day out, one that was complemented by superb weather. I am sure many people enjoyed the day and will be looking forward to the next Civic Society event.
Victorian Day was supported by funding from Voluntary Action Grassroots and Awards for All.
---
---